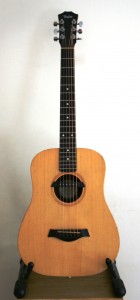 This is my Baby Taylor guitar, I bought this when they first came out around ten years ago and still use it today. It's a 3/4 size guitar but has a surprisingly big sound for it's size. I added a sound hole pick up for live use as this guitar makes an excellent backup steel string to my main Taylor 314CE. Another great thing about this guitar is it's the ultimate travelling guitar. When It's in it's padded gig bag it fits perfectly into an aeroplanes overhead luggage compartment so boarding with the guitar as hand luggage is not a problem.
Taylor have just released a new 3/4 called the Taylor GS Mini which is receiving some very good reviews at the moment. I was watching a performance on tv recently by Damon Albarn and he was using one and it sounded great. It must be such a difficult job to get a big sound out of a small area but Taylor seem to have cracked it.
My Baby Taylor is a really great little guitar, It's a great all rounder and is perfect for teaching as it's so easy and convenient to carry around.
If you ever get the chance to try one take it. On a blind fold challenge you would swear it was a full size!!
Steve